Hooray, I have just joined this giveaway organized by the beauty nerd by night. She is giving away one K-Palette 1-Day Tattoo Eyeliner in Black! Yes, picture attached below is the baby that she is going to giveaway.
You can understand this product even better by reading her blog post here (
LINK
). A simple intro would be, this eyeliner is available in two colours, one is in the black and the other one is in the brown shade. Both are equally pretty; if you prefer a more natural look, go for the brown eyeliner. After finish reading her blog and browsing through her pictures, I just realize that brown colour eyeliner actually portrays a very natural look for your daily make up look. Besides, her post also includes a review on K-Palette Long Lasting Eyebrow Pencil.
Head towards her blog (
LINK
) to enter the giveaway to win yourself a K-Palette 1 Day Tattoo Eyeliner in Black. This giveaway is open internationally. This giveaway will run for two weeks and the winner will be announced on her Facebook page (
LINK
) 24 hours after the giveaway ends. Lastly, these two pictures displayed here in my blog are all credited to the blogger of Beauty Nerd by Night. Thanks for the giveaway and let's finger crossed and see the result announcement! =) Cheers!!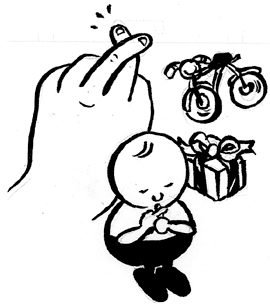 Finger crossed teehee!!
& the winner is....
okok, just joking, winner is yet to be announced, happen
to come accross this picture, ABIGAIL lol
Hasta La Vista Baby and Take care everyone!! Xoxo